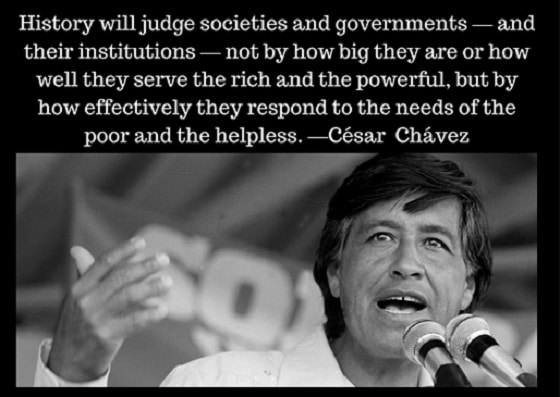 ---
"I am convinced that the truest act of courage, the strongest act of manliness is to sacrifice ourselves for others in a totally non-violent struggle for justice. To be a man is to suffer for others. God hep us to be men." ~ Cesar Chavez
I found myself thinking about Cesar Chavez today, mostly because of the continued assaults on immigrants and migrants being perpetuated by this administration, the most recent of which is the abolition of the medical deferred action program (more on that later).  Chavez was an American labor leader and a civil rights activist who firmly believed in the efficacy of non-violent protest. And yes, his quotes are dated in that they use men/them, man/him, etc., but he was a product of his times, so I don't read him as being sexist.
Anyway, Chavez is actually one of the first civil rights activists whose name I learned in my youth (aside from King, Kennedy, etc). I remember reading about his hunger strikes in 1968 and 1972, and the last of which was in 1988. That last fast was big in the news as several famous individuals took up the fast once Chavez completed his 36-day Fast for Life on August 21, 1988: The Reverend Jesse Jackson, Martin Sheen, the Reverend J. Lowery (President SCLC), Edward James Olmos, Emilio Estevez, Kerry Kennedy, legislator Peter Chacon, Julie Carmen, Danny Glover, Carly Simon, and Whoopi Goldberg.
Chavez regarded fasting as both a personal and public protest. Of fasting, he said,
A fast is first and foremost personal. It is a fast for the purification of my own body, mind, and soul. The fast is also a heartfelt prayer for purification and strengthening for all those who work beside me in the farm worker movement. The fast is also an act of penance for those in positions of moral authority and for all men and women activists who know what is right and just, who know that they could and should do more. The fast is finally a declaration of non-cooperation with supermarkets who promote and sell and profit from California table grapes.
Not sure why Chavez popped up on my internal radar today, but I'm going with it. If you want to learn more about him and the American Farm Workers union, go here.
(Note: I couldn't decide on a poem for today's post. Most of the ones that I liked are still under copyright, and I couldn't find a poem that was specifically about Chavez.)