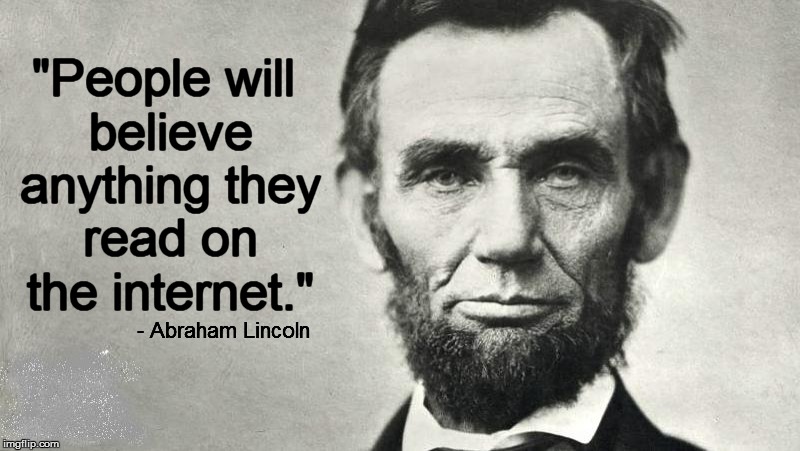 ---
"It's hard to fathom the level of grubby exploitation you've reduced yourself to, to turn a buck off of people who are watching their loved ones die in slow-motion" ~ Daryl Khan, whose father hoped food-grade hydrogen peroxide would cure his wife Susan's cancer
Thursday evening, cloudy again, 48 degrees.
Abraham Lincoln's opinions on the internet notwithstanding, a little something different for today . . .
So you wouldn't believe the number of websites, books, videos, and pamphlets that I found from supposed health gurus, truth tellers, and conspiracy theorists who want you to introduce food-grade hydrogen peroxide into your life, you know, for all of the health benefits, because it can cure gingivitis and cancer, simultaneously, and, well, just because.
PLEASE, PLEASE DON'T FALL FOR THIS! IT'S A BUNCH OF HOOEY THAT CAN DAMAGE YOUR INTERNAL ORGANS AND POSSIBLY KILL YOU!
According to a 2017 article in The Washington Post, "Hundreds of people have become severely ill and at least five have died after consuming high-concentration hydrogen peroxide that some people take as an additive to their diets, according to a new study."
A ten-year study by the U.S. National Poison Data System and the American Association of Poison Control Centers (AAPCC) was published in Annals of Emergency Medicine; the study encompassed the years 2001-2011. During that time, "nearly 300 cases of high-concentration peroxide poisoning were identified."
Dr. Benjamin Hatten, the lead study author, told CBS News that
The poisoning resulted in significant physical injuries, ranging from respiratory distress to seizures, strokes and heart attacks. About 14 percent of the patients experienced heart embolisms, while 7 percent died or had long-term disability after drinking hydrogen peroxide.
According to the NCBI of the NIH:
Hydrogen peroxide is relatively unstable and will rapidly decompose, through an exothermic reaction, into water and oxygen in the presence of alkali, metals and the enzyme catalase, which is found in mucous membranes, liver, kidney, red blood cells and bone marrow (1). There are three main mechanisms of toxicity from hydrogen peroxide: caustic injury, oxygen gas formation and lipid peroxidation (1).
The brown bottles of hydrogen peroxide that most of us have in our homes are 3 percent solutions. That's a big difference from food-grade, which is usually a 35 percent solution, and often these food-grade jugs are clear or milky, resembling bottled water or milk products, and that's a big problem if you have kids in your home, especially if they cannot read. The average amount of hydrogen peroxide in things like toothpaste and mouthwash is .1 percent. For more related facts, go here.
Go here for a good article explaining why food-grade hydrogen peroxide is not good for your health.
I know that it might seem odd coming from me that I'm so adamantly against ingesting so-called food-grade hydrogen peroxide, but the supposed health benefits of using this dangerous 35 percent concentration, even diluted have never been studied by any reputable lab.
Look, in recent years I've been trying to find natural and/or homeopathic and/or cruelty-free products in all areas of my life, but, and this is a BIG but, I research every supplement and/or vitamin that I add to my regimen; I monitor side effects and any possible benefits before deciding whether to continue or discontinue. And I in no way claim to be an authority on any of this.
I can tell you that Manuka honey has natural antibacterial properties that can do wonderful things for minor skin wounds. And rosehip oil is a wonderful moisturizer for your face. And snail slime, yep, even that, has beneficial properties. But a solution of diluted 35 percent hydrogen peroxide will not cure cancer, nor will it help with diabetes, nor will it help to oxygenate your cells.
I wrote this post because I had been sucked in by an article on the whole food-grade benefits about a month or two ago (who remembers time, so ephemeral…), so much so that I even priced a bottle on Amazon at that time (which has supposedly since banned 35 percent solutions, but a few can still be found). But then I began to dig deeper, and I realized that what was being touted was snake oil—pure and simple. And that's the case with many, many supplements, health rinses and tonics (like turpentine), etcetera that are on the market today.
All that I am saying is please, please do your due diligence. Be an informed consumer, not a ill-informed victim.
More later. Peace.
---
And FYI: