Category:
Statistically Speaking
The wit and wisdom of Meryl Streep on the insiduousness of sexism in our society:
Two for Tuesday: Society's Death Toll from gun violence
Tuesday afternoon, overcast, warmer temperatures, 53 degrees.
Today's poems are not easy or beautiful, but they are powerful. Consider, Langston Hughes wrote his poem in 1938, and the truly depressing aspect is that it is still applicable today. The second poem is from three years ago, and either poem could have been written during any period in our history—when lynchings were common, or when gun violence became a way of life for our society.
Listen, one of my biggest political anxieties is that this country still does nothing to rid itself of mass shootings. Don't scream at me about the 2nd Amendment, okay? I'm not suggesting that the government come and take away your guns. But I am advocating that we need much stricter gun laws. Even the fascist NRA is for more control. It's just too damned easy for someone to get a gun, modify a gun, purchase hundreds and hundreds of rounds, and then go out and kill people.
We are the only country in the world that has repeated mass shootings and still does nothing to ensure that such violence against society does not happen again. Since 1966, this country has had 161 mass shootings (defined as four or more people killed by a lone/two shooters); this number does not include gun violence, robberies, etc.). The Washington Post has a really good article that breaks down each shooting into detail.
I am not naive enough to believe that any individual who wants a gun can find a way, but I still contend that we can make that process harder. In my ideal world, there would be no guns available anywhere, but that will never happen. So I would settle for making access harder, especially to people who have no business gaining access to killing materials.
By the way, don't bother leaving comments about killing people with hammers or knives or baseball bats or any other easily accessible implement. I really don't care to hear it. And I'm absolutely not going to apologize for wishing that we did not have a continuing legacy of innocent people being killed—by cops, or troops, or drones, or individuals with malice in their hearts.
Sorry, not sorry. Here are today's poems:
---
Kids Who Die
This is for the kids who die,
Black and white,
For kids will die certainly.
The old and rich will live on awhile,
As always,
Eating blood and gold,
Letting kids die.
Kids will die in the swamps of Mississippi
Organizing sharecroppers
Kids will die in the streets of Chicago
Organizing workers
Kids will die in the orange groves of California
Telling others to get together
Whites and Filipinos,
Negroes and Mexicans,
All kinds of kids will die
Who don't believe in lies, and bribes, and contentment
And a lousy peace.
Of course, the wise and the learned
Who pen editorials in the papers,
And the gentlemen with Dr. in front of their names
White and black,
Who make surveys and write books
Will live on weaving words to smother the kids who die,
And the sleazy courts,
And the bribe-reaching police,
And the blood-loving generals,
And the money-loving preachers
Will all raise their hands against the kids who die,
Beating them with laws and clubs and bayonets and bullets
To frighten the people—
For the kids who die are like iron in the blood of the people—
And the old and rich don't want the people
To taste the iron of the kids who die,
Don't want the people to get wise to their own power,
To believe an Angelo Herndon, or even get together
Listen, kids who die—
Maybe, now, there will be no monument for you
Except in our hearts
Maybe your bodies'll be lost in a swamp
Or a prison grave, or the potter's field,
Or the rivers where you're drowned like Leibknecht
But the day will come—
You are sure yourselves that it is coming—
When the marching feet of the masses
Will raise for you a living monument of love,
And joy, and laughter,
And black hands and white hands clasped as one,
And a song that reaches the sky—
The song of the life triumphant
Through the kids who die.
~ Langston Hughes
---
How We Could Have Lived or Died This Way
Not songs of loyalty alone are these,
But songs of insurrection also,
For I am the sworn poet of every dauntless rebel the world over.
—Walt Whitman
I see the dark-skinned bodies falling in the street as their ancestors fell
before the whip and steel, the last blood pooling, the last breath spitting.
I see the immigrant street vendor flashing his wallet to the cops,
shot so many times there are bullet holes in the soles of his feet.
I see the deaf woodcarver and his pocketknife, crossing the street
in front of a cop who yells, then fires. I see the drug raid, the wrong
door kicked in, the minister's heart seizing up. I see the man hawking
a fistful of cigarettes, the cop's chokehold that makes his wheezing
lungs stop wheezing forever. I am in the crowd, at the window,
kneeling beside the body left on the asphalt for hours, covered in a sheet.
I see the suicides: the conga player handcuffed for drumming on the subway,
hanged in the jail cell with his hands cuffed behind him; the suspect leaking
blood from his chest in the backseat of the squad card; the 300-pound boy
said to stampede bare-handed into the bullets drilling his forehead.
I see the coroner nodding, the words he types in his report burrowing
into the skin like more bullets. I see the government investigations stacking,
words buzzing on the page, then suffocated as bees suffocate in a jar. I see
the next Black man, fleeing as the fugitive slave once fled the slave-catcher,
shot in the back for a broken tail-light. I see the cop handcuff the corpse.
I see the rebels marching, hands upraised before the riot squads,
faces in bandannas against the tear gas, and I walk beside them unseen.
I see the poets, who will write the songs of insurrection generations unborn
will read or hear a century from now, words that make them wonder
how we could have lived or died this way, how the descendants of slaves
still fled and the descendants of slave-catchers still shot them, how we awoke
every morning without the blood of the dead sweating from every pore.
~ Martín Espada
(This poem and other related poems on gun violence found here on Academy of American Poets)

---
Music by Kaleo, "Way Down We Go"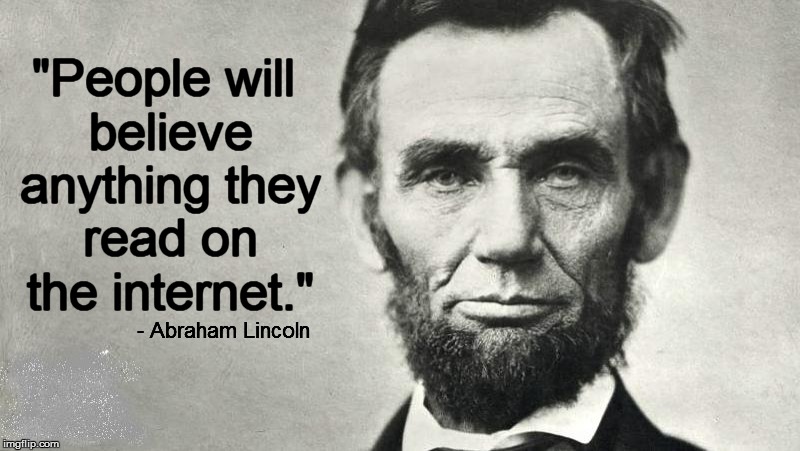 ---
"It's hard to fathom the level of grubby exploitation you've reduced yourself to, to turn a buck off of people who are watching their loved ones die in slow-motion" ~ Daryl Khan, whose father hoped food-grade hydrogen peroxide would cure his wife Susan's cancer
Thursday evening, cloudy again, 48 degrees.
Abraham Lincoln's opinions on the internet notwithstanding, a little something different for today . . .
So you wouldn't believe the number of websites, books, videos, and pamphlets that I found from supposed health gurus, truth tellers, and conspiracy theorists who want you to introduce food-grade hydrogen peroxide into your life, you know, for all of the health benefits, because it can cure gingivitis and cancer, simultaneously, and, well, just because.
PLEASE, PLEASE DON'T FALL FOR THIS! IT'S A BUNCH OF HOOEY THAT CAN DAMAGE YOUR INTERNAL ORGANS AND POSSIBLY KILL YOU!
According to a 2017 article in The Washington Post, "Hundreds of people have become severely ill and at least five have died after consuming high-concentration hydrogen peroxide that some people take as an additive to their diets, according to a new study."
A ten-year study by the U.S. National Poison Data System and the American Association of Poison Control Centers (AAPCC) was published in Annals of Emergency Medicine; the study encompassed the years 2001-2011. During that time, "nearly 300 cases of high-concentration peroxide poisoning were identified."
Dr. Benjamin Hatten, the lead study author, told CBS News that
The poisoning resulted in significant physical injuries, ranging from respiratory distress to seizures, strokes and heart attacks. About 14 percent of the patients experienced heart embolisms, while 7 percent died or had long-term disability after drinking hydrogen peroxide.
According to the NCBI of the NIH:
Hydrogen peroxide is relatively unstable and will rapidly decompose, through an exothermic reaction, into water and oxygen in the presence of alkali, metals and the enzyme catalase, which is found in mucous membranes, liver, kidney, red blood cells and bone marrow (1). There are three main mechanisms of toxicity from hydrogen peroxide: caustic injury, oxygen gas formation and lipid peroxidation (1).
The brown bottles of hydrogen peroxide that most of us have in our homes are 3 percent solutions. That's a big difference from food-grade, which is usually a 35 percent solution, and often these food-grade jugs are clear or milky, resembling bottled water or milk products, and that's a big problem if you have kids in your home, especially if they cannot read. The average amount of hydrogen peroxide in things like toothpaste and mouthwash is .1 percent. For more related facts, go here.
Go here for a good article explaining why food-grade hydrogen peroxide is not good for your health.
I know that it might seem odd coming from me that I'm so adamantly against ingesting so-called food-grade hydrogen peroxide, but the supposed health benefits of using this dangerous 35 percent concentration, even diluted have never been studied by any reputable lab.
Look, in recent years I've been trying to find natural and/or homeopathic and/or cruelty-free products in all areas of my life, but, and this is a BIG but, I research every supplement and/or vitamin that I add to my regimen; I monitor side effects and any possible benefits before deciding whether to continue or discontinue. And I in no way claim to be an authority on any of this.
I can tell you that Manuka honey has natural antibacterial properties that can do wonderful things for minor skin wounds. And rosehip oil is a wonderful moisturizer for your face. And snail slime, yep, even that, has beneficial properties. But a solution of diluted 35 percent hydrogen peroxide will not cure cancer, nor will it help with diabetes, nor will it help to oxygenate your cells.
I wrote this post because I had been sucked in by an article on the whole food-grade benefits about a month or two ago (who remembers time, so ephemeral…), so much so that I even priced a bottle on Amazon at that time (which has supposedly since banned 35 percent solutions, but a few can still be found). But then I began to dig deeper, and I realized that what was being touted was snake oil—pure and simple. And that's the case with many, many supplements, health rinses and tonics (like turpentine), etcetera that are on the market today.
All that I am saying is please, please do your due diligence. Be an informed consumer, not a ill-informed victim.
More later. Peace.
---
And FYI: